Paragliding Pokhara is part of the ANA, Take Me 'Round the World Trip Report.
---
We were born to be alive! Born to be alive.
That song captures the point of life. I seek out adventure when I travel. Whether it's swimming with crocodiles in Darwin (see Guns & Butter: Darwin Travel Guide), wading with the devil in Zambia (see The Devil's Pool Zambia: Loungin Atop Victoria Falls), bungee jumping in Zimbabwe (see 3,2,1 Bungee! Bungee Jumping Victoria Falls), or braving category 3 rapids in Bhutan (see Finding Happiness: Bhutan Day 3 ), I get after it.
The adrenaline activity I chose in Pokhara was paragliding. Unlike riding a bicycle which is still terrifying to me (see Finding Happiness: Bhutan Day 2), heights do not scare me. Still, there is a small degree of risk when you're feet are off the ground and the only thing keeping you from death is a parachute.
Before detailing my ride, let me describe my second favorite travel activity: bargaining (see Master Bargainer: TPOL's TIPS for Shopping Abroad). I went all over Pokhara looking for the best price to go paragliding. As I was lowballing every travel agency, it occurred to me that this strategy may not be prudent. I don't think it's wise to go cheap when it comes to my life. At the same time, I was taking a tandem flight, so it's not like the pilot would be less inclined to be cautious with his life just because I paid less.
Ultimately, I booked my flight with Adam Tours, the agency I used for all my excursions, for 5000 rupees ($141) per person.
TPOL'S TIP: Contact Adam.
With only 2 days in Pokhara and a monsoon that never seemed to end, I was worried that I would not be able to go paragliding. If the ground is wet, the pilots understandably won't fly because it makes taking off and landing tricky. It also kills the experience if the scenery is drab and gray. As the rain stopped and the sky cleared, we were given the go-ahead to go ahead.
A caravan of SUV's proceeded up a bumpy road and we eventually made it to the launch point. The safety instructions were brief: keep running until we are up in the air.
Takeoff
Helmet on my head, arms at my side, I took off running on the uneven terrain. By running, I mean a brisk walk. Eventually, the wind lifted us off the ground and ever so smoothly we were in flight. It was a peaceful take off compared to the bungee dive.
Up in the Air
Up in the air, the GoPro was turned on and great photos were taken.
Finally Fun
Down below, I saw a paraglider doing some tricks. I told my pilot I wanted to do the same. He obliged and starting turning abruptly from left to right. Finally, I was having fun. The free-fall feeling is my favorite.
Descent
As we went closer to the ground, I wondered why I felt safer high in the air than closer to the ground. It would seem to make sense that being closer to earth would mean I am safer, but the more we descended the more I could feel how fast we were traveling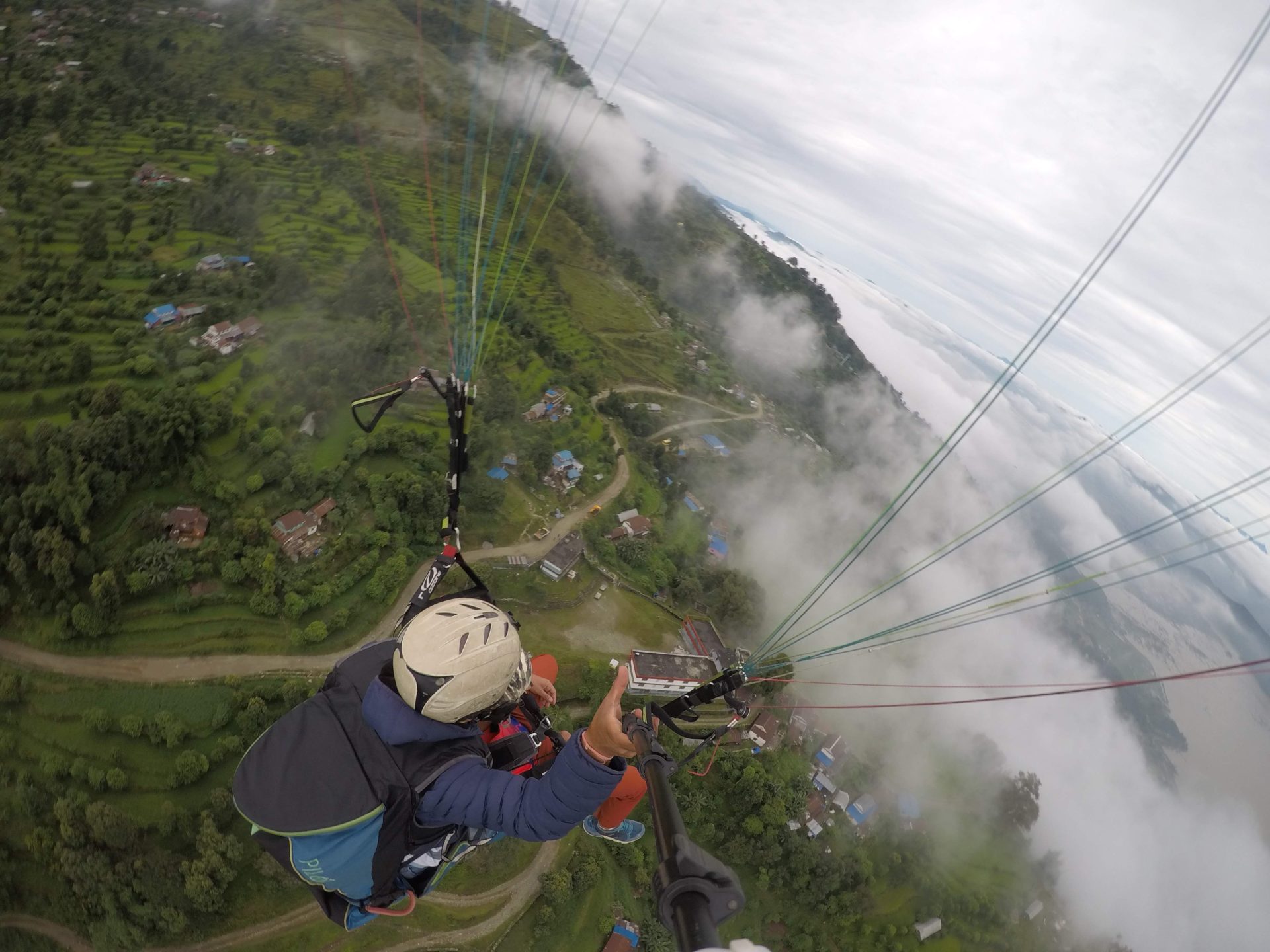 Landing
The second set of safety instructions were delivered minutes before landing: keep your feet up and stand up when we land. Then the pilot said we are landing over there, pointing to an X on the ground. Coming in hot, I made sure my feet were up. A nice way to break your legs would be to have them get caught on the ground. The landing was executed smoothly. We transitioned from a rapid descent to standing upright without dramatics. With that, my adventure was over.
Risk
Paragliding was fun but not high on my list of thrill-seeking activities. I am sure when my pilot flies solo, the rides are far from tame. For safety reasons, pilots don't perform crazy maneuvers with tourists because they do not know how tourists may react.
Overall
Now I've been paragliding. What is there left to do?